Posted: Wednesday, January 29, 2014. 5:06 pm CST.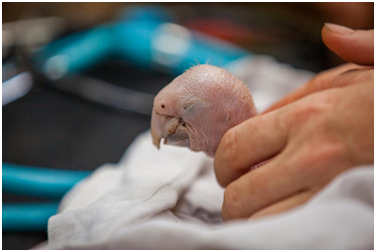 Baby Scarlet Macaw. Photo Credit Roni Martinez
Nestled on the Northeastern coast of Central America, below Quintanaroo, Mexico, sitting between a beach on a small island and on top of the Maya Mountain range, is Belize — the 'land of the free by the Carib sea' as our National Anthem reminds the world. Here, the largest industry that is taxed is the oil industry and following that is tourism as the nation's largest producer of foreign exchange. 
Ecotourism
, for arguments sake, since 1960, has been the galvanizing force and still is the spinal wall that keeps tourism upright and standing tall — as tall as our national tree, the Mahogany.
There are those who are strongly in support of an ecotourism product and there are those who want to subscribe to the "new" Cruise Tourism "streets of gold bandwagon". Personally, we prefer ecotourism. However, we must state that coming from the Western part of the country (San Ignacio, Cayo), within the last 15 years we have immersed ourselves in the ecotourism industry as entrepreneurs. Joe for example has been teaching adventure and ecotourism since 2005 and a couple other tourism courses for the local junior college in San Ignacio, Sacred Heart Junior College. Larry has been marketing the entire country since 2008 online via the different social media channels like Facebook, Twitter, Instagram and different travel blogs.
In 1998, according to LanSluder, the Blackstone Report became the first strategic plan for Belize's tourism industry. At this time cruise arrivals were on smaller boats and the total population of cruise tourists numbered 14,000 people. At the same time, overnight stays numbered 160,000 people. Total tourism revenues were 100 million dollars.
In 2001, amidst some dramatic political fireworks (the minister of tourism at the time lost his tourism portfolio over said drama) the Tourism Village was constructed and sold to Carnival Cruise Lines. By 2002 cruise tourism jumps from under 50,000 people. It climbed to 320,000 people in 2003. Overnight passengers added 40,000 more people in 2003 for a total of 200,000 for that year. By 2007 cruise arrivals peaked at 850,00 people and overnight stays settled down at 250,000 people.
There has been growth. In fact, enormous growth!
After the Blackstone Report of 1998, another firm got the nod to do research on the industry and like the Blackstone report, they too have advised strongly that Belize must curtail in its romance with cruise tourism as the country is not developed for, nor is it large enough to sustain the overwhelming pounding of the sudden amounts of people that come off cruise ships at almost three times the size of the country's population. Furthermore, the numbers economically has overnight stays bringing in almost four times the amount of money into the country and they number just about 25 percent of the cruise population. Any accountant or laypersons on the street, if asked which they would prefer cruise or overnight stays (mostly ecotourists) would, in our opinion, choose overnight stays. There's more in it for more people. That's what the leading philosophy of ecoturism dictates: caring for both environment and welfare of the local population.
It's difficult, and we dare to say a dilemma, for governments in Belize and in the region of developing countries to grow their economy consistently and create jobs. From the latest environmental impact assessment for another cruise line, Norwegian, it seems that the hook, line and sinker that makes governments bite are the really false claims of jobs. Norwegian was called out at a public forum in Mango Creek, Southern Belize for stating that they would bring to the South 1,000 new jobs.
A wise audience, doing their homework, counted 200 jobs for Belizeans and also, because of the "natural" site of what will soon be a defaced and destroyed Harvest Caye and the activities there, tour guides in the South have made their protests that the Norwegian Cruise Line guests, because of the planned port may not get off the island at all and if they do their numbers would not bring jobs to the many guides who make tourism their living. The government seems to always fall for the "we will bring jobs" trick. Once bitten twice shy is not a cliché that works here it seems.
Lately, a local talk show host discussed with an audience that a cruise line has offered to match the cost of any cheaper tours done by locals so that the guests could go on strictly the cruise lines tours or their commissionable counterparts on the ground. This is not only disgusting, but it's an ethical monstrosity that can only turn out ugly for the tourism industry of Belize and the government. Let us hope this can be remedied as soon as daylight or the fight for bread can be repeated all the way over on the American mainland.
Chugging along and very wary of the vast amount of people that come on cruise lines, is the overnight sector that prefers to walk lightly on the land and bring visitors in contact with Belizean people. This is the one important element that the cruise lines cannot seem to negotiate with their schedules. A person coming to Belize on a cruise ship and one who has stayed will always have two incredibly different stories to tell. Take that to the bank jack!
Belize is not Jamaica or nor is it Cozumel nor Cancun. It is 183 miles long; its coast is 174 miles long, and at it's widest point its 68 miles. We are welcoming all people from around the world to visit us. We appreciate people coming to visit us. We wish that less people would come to Belize on a cruise ship and stay with us. Then we will take you to Buena Vista, Caracol, Chechem Ha cave and to Maya sites on horses and hiking and make you meet the San Antonio women's group and make some tamale with them from scratch. We will take you to get your hands on clay and make you draw, paint and color and even make a clay piece guided by a Belizean Maya man or woman. We truly wish you could do this, but you won't be able to do any of this in its original setting, coming off a cruise ship.
Come to Belize.
This article was written by Larry Waight and Joe Awe and was originally published on the Huffington Post Website. You can find the original copy here.
Advertise with the mоѕt vіѕіtеd nеwѕ ѕіtе іn Belize ~ We offer fully customizable and flexible digital marketing packages. Your content is delivered instantly to thousands of users in Belize and abroad! Contact us at mаrkеtіng@brеаkіngbеlіzеnеwѕ.соm or call us at 501-601-0315.
© 2014, BreakingBelizeNews.com. Content is copyrighted and requires written permission for reprinting in online or print media. Theft of content without permission/payment is punishable by law.